ACADEMY INFORMATION
WILDFIRE EXPLORER ACADEMY #23
Contact us if you want to know how to get in the Academy!
Academy Dates: FEB 10, 11,12 / FEB 17,19,20 / FEB 24,25,26 / MARCH 3,4,5
ACADEMY HOMEWORK;
Week 1-
Working with Inmates Final
Fema IS-700a Final, take at the following link: http://emilms.fema.gov/IS700aNEW/index.htm
the 10 Standard Fire Fighting Orders. There will be a test!
Week 2-
3 page Report & Poster on assigned topic.
Study for the 10's/18's Final.
Invite your friends, family, post advisors, and your fire chiefs to your Graduation.
Learn the Wildland Water Use Hand Signals that are in your IRPG, you will be tested.
Check this website daily for new assignments
If you can, Get yourself a Compass for Land Navigation training.
Week 3-
Study for S-130 Unit 11 Quiz, Unit 17 quiz, and S-130 Final

10's & 18's Final

Complete your final invitations
Week 4 of the Academy will be TBA. Graduation will be TBA @ 12:00 noon
Notify those you invited that the Academy Graduation will be MARCH 12

, 2017 @ noon

Monitor this website for more updates.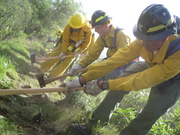 Month ( Mid FEBRUARY & Mid MARCH) on the Wekends, Fri, Sat, Sun
Academy 22 had 49 Explorer Cadets from the following Agencies-
US Forest Service Fire. Post 99 and Post 101
Kern County Fire Dept.
Ventura County Fire Dept.
Los Angeles County Fire Dept.
Chula Vista Fire Department
Los Angeles Fire Department
Oxnard Fire Department
Pasadena Fire Department
Agencies that have participated in the Academy
U.S. Forest Service- Angeles National Forest
Los Angeles Fire Dept.- Los Angeles County Fire Dept.- Pasadena Fire Dept.- Oxnard Fire Dept.- Kern County Fire Dept.-
Santa Barbara Fire Dept.- Downey Fire Department- Ventura County Fire Dept.- West Covina Fire Dept.-
Montebello Fire Dept.- Orange County Fire Authority.- Bakersfield City Fire Dept.- Alhambra Fire Dept.- Hume Lake Fire Dept.
Riverside County F.D./Cal Fire.- Murrieta Fire Dept.
more to come...